Katia Karpenko
Professional Model
Toronto, Canada
Andrew has proven to be THE MAN for achieving my fitness goals. As a model, I have very specific measurement requirements (hips half an inch too big and I'm out of the modeling industry). My previous trainerseither played the game of kill-my-client-as-quickly-as-possible, which only damaged my physical and psychological state, or were too light throughout the workout. Both cases failed to get me the results I need. Within three months of training with Andrew, I achieved my measurement goals and a long-time dream of becoming injury-free. I have never felt so strong. After living with scoliosis and playing competitive tennis since childhood, I had a number of injuries to deal with. The most notable was my lower back and shoulder (from all those serves), which caused me to quit tennis two years ago. Andrew strengthened my back and shoulders with the necessary exercises and cleared all the physical discomfort I had been living with. I am now confident to step back on the tennis court, strut down international runways, and do ordinaryday-to-day activities likecarrying heavy groceries that I used to avoid.
The training sessions are rigorous, but tailored to my abilities. The stronger I get, the harder the sessions. This only adds to the fun of overcoming challenges. The sets of exercises vary from session to session and keep things exciting. Most importantly, Andrew is highly professional and strict when need be. But mainly a ton of fun to work with! I should add that if you're looking to try out boxing as an addition to your workouts or already box and would like to improve, look no further! I never thought I'd take such a liking to boxing!
– Katia Karpenko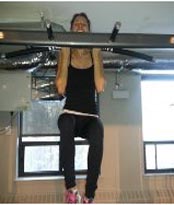 Nicole Drapkin
Financial Advisor
Toronto, Canada
My fitness goals are to maintain a healthy weight, increase muscle and endurance, and improve my posture! Andrew has done more for these goals and my general well being over the past six months than previous trainers (gifted as they may have been) have done in a matter of years. He has a great sense of an individual's limitations and potential and has the ability to utilize both to achieve optimal results. Andrew is excellent at providing a full body workout, explaining the benefits of each exercise and demonstrating the correct form. He is constantly finding new and innovative workouts to ensure that I never get complacent and continue my progression. His encouragement and humor create an atmosphere that motivates you to push yourself to your full potential. As it relates to my personal goals, I never thought I would see the day I could do pull-ups unassisted or more importantly sit up straight at my desk!
– Nicole Drapkin