The fighter's mentality… Otherwise known as the winner's mindset.
Things that come to my mind when I think of a fighter's mentality is overcoming an obstacle, getting yourself up after failing at a particular task, facing an opponent (Doesn't have to be physically), or even ignoring a critic. But the biggest thing is overcoming that urge to quit.
My goal here is to take the words "I give up" or "I quit" out of your vocabulary and thoughts. Have a fighter's mentality in everything you do. If you've reached a plateau in your training, try something different. If you're not doing well in your particular sport, work harder. If you're boss yells at you for no particular reason, punch him in the face.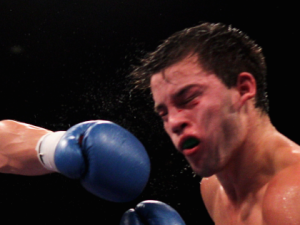 A big obstacle I had to face in my competitive fighting career was when I had to compete in my first Muay Thai tournament. I had very few fights going into the tournament and I had to compete in an open division against the best fighters in North America. The reason I was put in the open division was because of my boxing experience. The extensive amount of fights I had in boxing put me in the open bracket where I had to compete against fighters with 20-100+ fights and I only had 4 fights in Muay Thai. I even had other fighters from my gym laugh at me for wanting to compete. No one thought I had a chance.
Long story short… I came home with a belt. If I let the opinions of others get into my head, I would've never had a chance. I needed to overcome that obstacle and focus completely on winning. I had "The Fighter's Mentality". I either come back home with a belt or stay there and starve to death.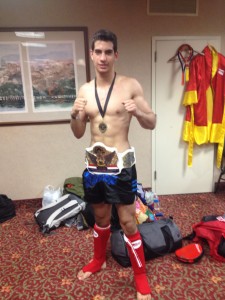 This type of mindset has helped me overcome many situations throughout my life. Many other people who have succeeded can also relate to this mindset. Any high level high athlete knows what it's like to overcome these obstacles and having the work ethic necessary in achieving success.
There will always be a solution to a problem as long as you focus on that solution and not the problem. We get roadblocks in everything we do. You know it and I know it. This where the fun part comes in. The make or break. Here comes one of my favourite quotes: "It ain't about hard you hit… It's about how hard you can get hit and keep moving forward" – Sylvester Stallone, Rocky Balboa
It might be cheesy but it can be applied to about anything in life. I remember when I got fired from my first job at Zellers. Right after I got fired, I went to the McDonalds next door and I applied for a job. They offered it to me, but I ended up declining the offer and went to work at Extreme Fitness. This happened when I was 15 years old. I would of never got a job at Extreme Fitness if I kept working at Zellers. I was thankful for being fired. It gave me the hunger in pursuing something better. Working at a gym at 15 years old was the coolest thing ever.
Once our mind is set on something, nothing can get away in achieving it. Sometimes it's good to be stubborn.  Here is a great strategy for having the mentality of a fighter: 
Visualize the desired outcome as if it already happened
Every time I step into the ring, I have already won. You have probably heard a lot of fighters say this or even other athletes. You have to win in your head before it becomes a reality. Use that imagination of yours. We can easily become better at what we do if self-doubt isn't a factor. Too many people let the criticism of others affect the productive actions that can be taken because their balls were too small to do it themselves.
Once your mind is set on winning and attaining the end goal. No roadblock will get in your way to achieve that desired outcome. This can easily be applied to your career goals, fitness goals, or any type of goal. Once you master this skill, you will have "The Fighter's Mentality".
If you enjoyed this post, do me a favor and share it. I would greatly appreciate it.
Thank you for reading,
Andrew