This is one of my favorite excuses for someone not achieving their goals whether it be losing weight or achieving their ideal body composition. Yes, some people have a slower metabolism than others BUT that shouldn't be an excuse for the obesity rate that we are currently witnessing. I can't even keep up with the percentages.
These are usually the answers I get when I ask someone a series of questions when they say they have a slow metabolism:
How often do you workout? Once in a while
What do you do when you workout? Elliptical for 20-30 min
Do you do any type of resistance training? I do the machines with cable thingies
Do you sweat when you workout? I don't like to sweat
So you can't lose weight because you have a slow metabolism? Yes
This might be a bit over exaggerated, but when you ask someone about there exercise routine; it stands to reason why they aren't achieving their body composition goals. Then they blame having a slow metabolism while having a lackluster training plan.
OR you might have someone on the other end of the spectrum and tell you they workout 7 days a week and never make any progress. Then you realize that you never see them in the gym and you begin to think they're full of shit. Of course they blame having a slow metabolism for not achieving their goals.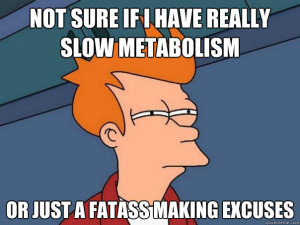 There's usually 3 reasons why these people don't get the results they desire:
They are burnt out
They lost motivation due to not having patience with the process
They are completely bullshitting you about their workout schedule.
Achieving a body composition goal or a sports performance goal takes patience. You can't go balls to the wall for 1-2 weeks and expect a dramatic change. You're in it for the long haul and the only thing holding you back is a stupid excuse. Which is also a limitation. It's like having a short ceiling over your head that you'll never breakthrough unless you accept that it's your responsibility. Developing a strong self-efficacy goes a long way with achieving anything in your life.
Now if I were to make an excuse, I know that I would never get anything done. I have made many excuses in the past for not having what I wanted.
I was never the smart kid in school growing up. In elementary school I was always at the bottom five with the worst marks in the class. In high school, I failed so many classes that I had to do a whole extra year to graduate. I always told myself that I wasn't "book smart". So therefore, school wasn't a priority for me and I put all my concentration into boxing.
During my last year of high school, I decided that I wanted to pursue fitness since it was something I was really good at and passionate about. Therefore, I chose to go to college to pursue fitness. My first initial thought was
"How the hell am I going to do this? I can't even pass a class in high school and now I'm going learn all this sciency anatomy shit about the body and expect to graduate?"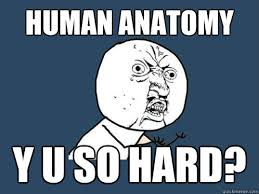 On top of that, I was paying out of my own pocket. Since it was something I was determined to pursue, I decided to go for it.
I went in there with the mindset of getting the best marks in my class and expecting nothing less. I was going to go at it with the same intensity that I apply in the gym. Yes, I was a competitive freak.
I then graduated with honors and at the top of my class. I realized there is no such thing as "book smart" people. It was only some stupid logic that I made up in my head. I was trapped by my own mindset. The only reason I didn't do well in high school wasn't because of not being "book smart", it's because I hardly showed up for class and I didn't apply myself into the process. Go figure.
Your "slow metabolism" is NOT the reason why you aren't achieving your body composition goals. If you want a certain body fat percentage or look a certain way then you have to put in the work to get it. Athletes aren't born with an athletic lean body. Athletes undergo highly intense exercise routines that get them to look that way.
If you want to improve your body composition, lose fat and get off that stubborn plateau, then stay tuned for the next installment, where I reveal time-tested exercises that have helped many of my clients debunk their excuse of having a "slow metabolism". I will also be revealing some little secrets and tips that can also break through that stubborn plateau.
If you have any friends that still make the excuse of having a slow metabolism be the reason for not achieving their fitness goals, then share this post and hopefully we can change their mind.
Thank you for reading,
Andrew